From Le Tour Art collection by Art & Hue, Eddy Merckx & France Tour stylish pop art prints available in three sizes and 18 colours.
Eddy Merckx Pair
Stylish pop art prints featuring the legendary cyclist Eddy Merckx, and the
map shape of France
with Eddy Merckx and Erik De Vlaeminck jostling for position.
Eddy Merckx is generally considered to be the most successful rider in the history of competitive cycling, having won the French Tour in 1969, 1970, 1971, 1972, & 1974, as well as the Italian Giro in 1968, 1970, 1972, 1973, & 1974, plus the Spanish Vuelta in 1973.
Eddy Merckx is one of only three riders to have won all five cycling "Monuments", (Milan–San Remo, Flanders, Paris–Roubaix, Liège–Bastogne–Liège, and the Lombardia), and the only cyclist to have won them all twice or more.
The Belgian cyclist Erik De Vlaeminck won the Belgian Tour in 1969 and Stage 2 in the 1968 French Tour.
He became cyclo-cross world-champion seven times, in 1966, 1968, 1969, 1970, 1971, 1972, & 1973, a record only matched by one other cyclist.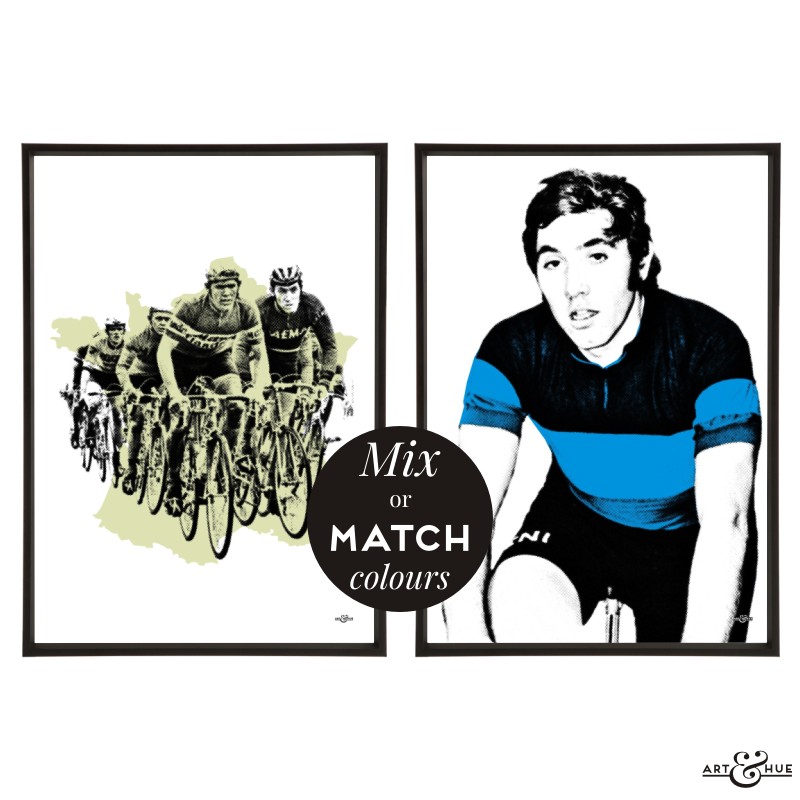 Eddy Merckx Pop Art
To mark 100 years of the yellow jersey, Art & Hue has created a new collection of stylish peloton pop art inspired by Mid-Century cycling, available in three sizes and 18 colours.
Available in A4, A3, and A2 sizes to fit standard-size picture frames. Please note that black frame is not included – for a guide on choosing a frame size take a look here.
Exclusively by Art & Hue, these prints are part of Le Tour collection of stylish pop art prints inspired by Mid-century cycling, featuring Art & Hue's signature halftone style (halftone is an age-old technique that uses dots to make up the printed image, similar to newspapers or comic books).
Copyright © Art & Hue® 2019. All rights reserved.