Dana
Stylish pop art of Ireland singer Dana.
Following the 1969 song contest in which four, yes four, countries tied in first place (including Lulu with "Boom Bang-a-Bang"), the voting system was changed from the 1970 contest onwards to ensure there wasn't a repeat of joint winners.
One of the 1969 winners was the Netherlands so the 1970 contest was held in Amsterdam.
In the run up to the contest, the United Kingdom entry of "Knock Knock, Who's There?", performed by Mary Hopkin, was the favourite to win but was pipped at the post, finishing in second place, by a young 18 year old Irish singer.
Dana (Rosemary Scallon) won the 1970 contest with the charming song "All Kinds of Everything", the first time Ireland had won the contest since it began in 1956. The song went on to sell millions of copies, topping the charts across Europe.
Including Dana's first win for the country in 1970, Ireland has won the contest a total of seven times to date. Johnny Logan sang and won twice (in 1980 & 1987), as well as winning as a songwriter in 1992. Ireland won three years in a row (1992, 1993 & 1994), a feat not repeated by any other country, last winning in 1996.
Also available as part of a pair of prints.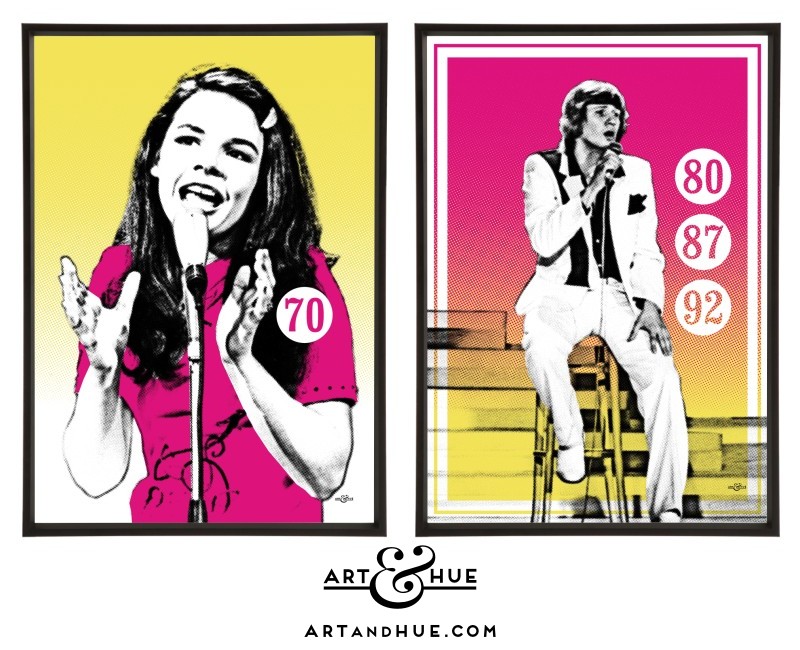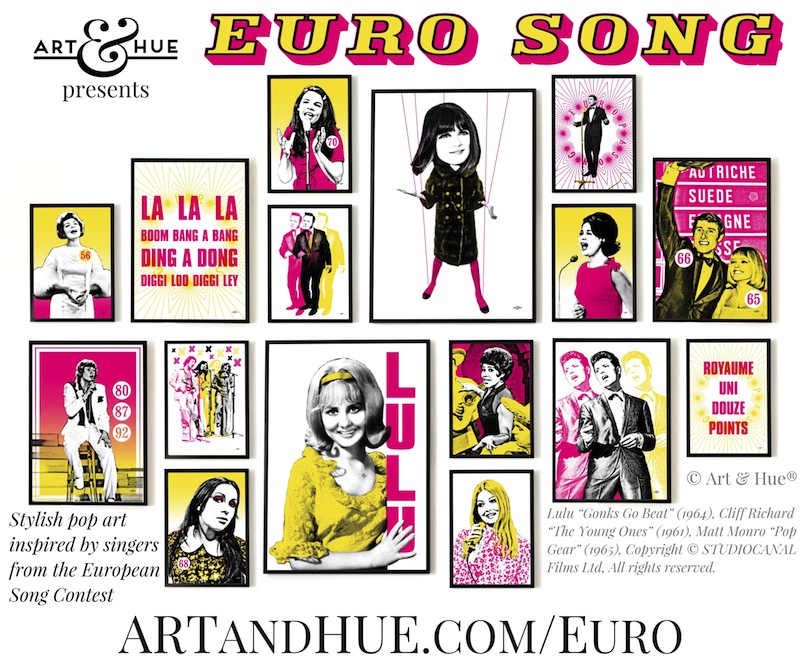 Euro Song
Art & Hue presents Euro Song, a collection of stylish pop art featuring singers from across the years in homage to the European song contest.
Originally created to bring the nations of Europe together after the Second World War, the contest has produced singers and groups who endure to this day, as well as creating its own brand of Euro-Speak song titles which transcend language barriers.
Exclusively by Art & Hue, the Euro Song collection is available in three sizes & many colour options, printed on museum-quality archival card of 310gsm, made from 100% cotton, with fine-art pigment inks for longevity.
Available in A4, A3, and A2 sizes to fit standard-size picture frames. Please note that black frame is not included – for a guide on choosing a frame size take a look here.
Part of the Euro Song collection of stylish pop art prints inspired by singers from the European song contest, featuring Art & Hue's signature halftone style (halftone is an age-old technique that uses dots to make up the printed image, similar to newspapers or comic books).
Copyright © Art & Hue® 2016-2023. All rights reserved.