Johnny Logan
Stylish pop art of Ireland singer Johnny Logan.
Art & Hue presents Euro Song, a collection of stylish pop art featuring singers from across the years in homage to the European song contest.
Johnny Logan holds the distinction of being the only singer to have won the song contest more than once. In fact, Johnny Logan has won three times, the only person to have done so, twice as a performer in 1980 & 1987, and again as a songwriter in 1992.
In 1980, Logan won with "What's Another Year" and again in 1986 with "Hold Me Now" (which he performed & wrote). He also wrote Linda Martin's 1992 winning song "Why Me?".
Ireland has won the contest a total of seven times to date. Dana was Ireland's first winner in 1970, followed by Johnny Logan's wins in 1980 & 1997, Linda Martin in 1992 with a song written by Logan, Niamh Kavanagh in 1993, Paul Harrington & Charlie McGettigan in 1994, and Eimear Quinn in 1996.
Ireland won three years in a row (1992, 1993 & 1994), a feat not repeated by any other country, and gave a platform to the Irish dancing act Riverdance who performed during the interval in 1993.
Also available as part of a pair of prints.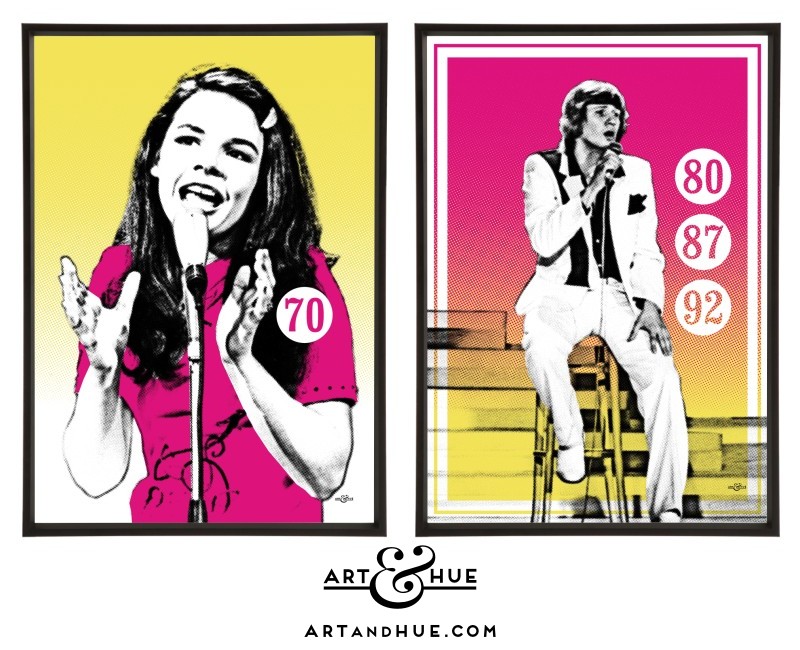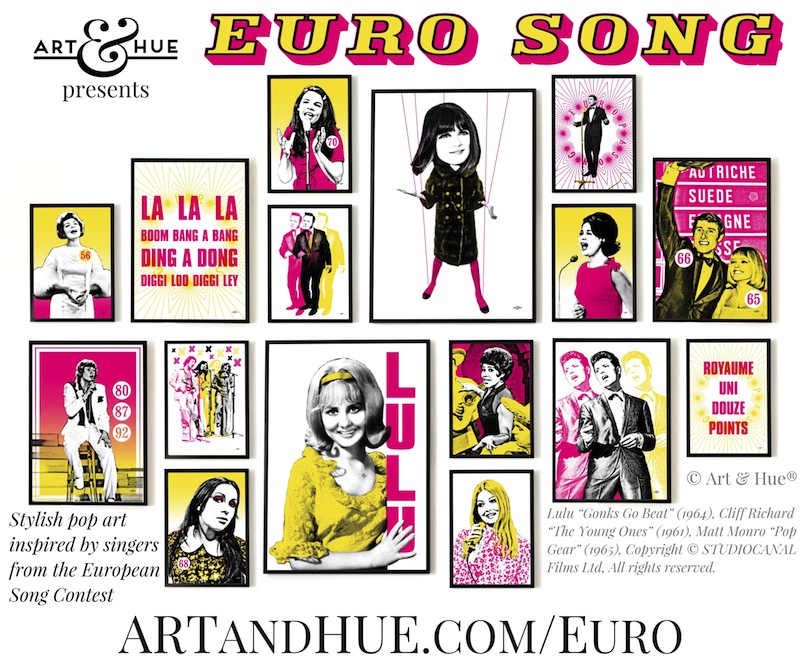 Euro Song
Originally created to bring the nations of Europe together after the Second World War, the contest has produced singers and groups who endure to this day, as well as creating its own brand of Euro-Speak song titles which transcend language barriers.
Exclusively by Art & Hue, the Euro Song collection is available in three sizes & many colour options, printed on museum-quality archival card of 310gsm, made from 100% cotton, with fine-art pigment inks for longevity.
Available in A4, A3, and A2 sizes to fit standard-size picture frames. Please note that black frame is not included – for a guide on choosing a frame size take a look here.
Part of the Euro Song collection of stylish pop art prints inspired by singers from the European song contest, featuring Art & Hue's signature halftone style (halftone is an age-old technique that uses dots to make up the printed image, similar to newspapers or comic books).
Copyright © Art & Hue® 2016-2023. All rights reserved.