Beryl Reid stylish pop art print.
Starting in music halls and variety shows, a lack of training did not hold Beryl Reid from appearing in many theatre productions and having a successful career in film & television.
On television, Beryl Reid appeared in "Tinker Tailor Soldier Spy" with Alec Guinness, for which she won a BAFTA, "Doctor Who", "Minder", and "The Beiderbecke Tapes" with James Bolam.
Her film credits include "The Belles of St. Trinian's" with Alastair Sim, Joyce Grenfell, Joan Sims, Sid James, and Barbara Windsor, "The Dock Brief" with Peter Sellers & Richard Attenborough, "The Killing of Sister George", "The Assassination Bureau" with Diana Rigg, "Psychomania", "Dr. Phibes Rises Again" with Terry-Thomas, Peter Cushing, & John Thaw, "No Sex Please, We're British" with Ronnie Corbett, Margaret Nolan & Valerie Leon, "Joseph Andrews" with Jim Dale, "Carry On Emmanuelle" with Kenneth Williams & Joan Sims, the final film of the original run of Carry On films, "Yellowbeard" with John Cleese, and "The Doctor and the Devils" with Twiggy.
One of Beryl Reid's films is "Two-Way Stretch" with Peter Sellers, Irene Handl, Bernard Cribbins, and Liz Fraser.
Joe Orton's provocative theatre production of "
Entertaining Mr Sloane
" took to the stage in 1964 but it was to be six years before the play transferred from stage to screen.
When Peter McEnery's character drops into the laps of Beryl Reid & Harry Andrews, the farce takes many dark turns with themes of murder and blackmail. Dressed in his leather chauffeur's outfit, Mr Sloane's actions ultimately seal his fate when Kath & Ed decide on an unholy pact.
Art & Hue had the pleasure to delve into the archives for the film "Entertaining Mr Sloane" to create this stylish pop art print of Beryl Reid cooling herself on a hot summer's day with an ice-lolly, available in three sizes and 20 colours.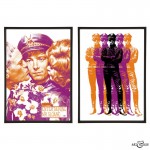 Rewatch "Entertaining Mr Sloane, or discover it anew, on DVD or watch it online at Amazon or iTunes.
Beryl Reid Pop Art
Available in A4, A3, and A2 sizes to fit standard-size picture frames. Please note that black frame is not included – for a guide on choosing a frame size take a look here.
An official collaboration with Studiocanal, this print is part of the Funny Women collection of stylish pop art prints inspired by classic British comediennes and comic actresses, featuring Art & Hue's signature halftone style (halftone is an age-old technique that uses dots to make up the printed image, similar to newspapers or comic books). As well as the Funny Women collection, discover the Funny Men pop art.
"Entertaining Mr Sloane" Copyright © STUDIOCANAL Films Ltd. (1970). All rights reserved.
Copyright © Art & Hue® 2019. All rights reserved.