Art & Hue presents
Billy Liar
, stylish pop art inspired by the classic 1963 film of the British New Wave.
Step into the colourful world of "Billy Liar" with this new pop art collection by Art & Hue, inspired by the seminal 1963 film.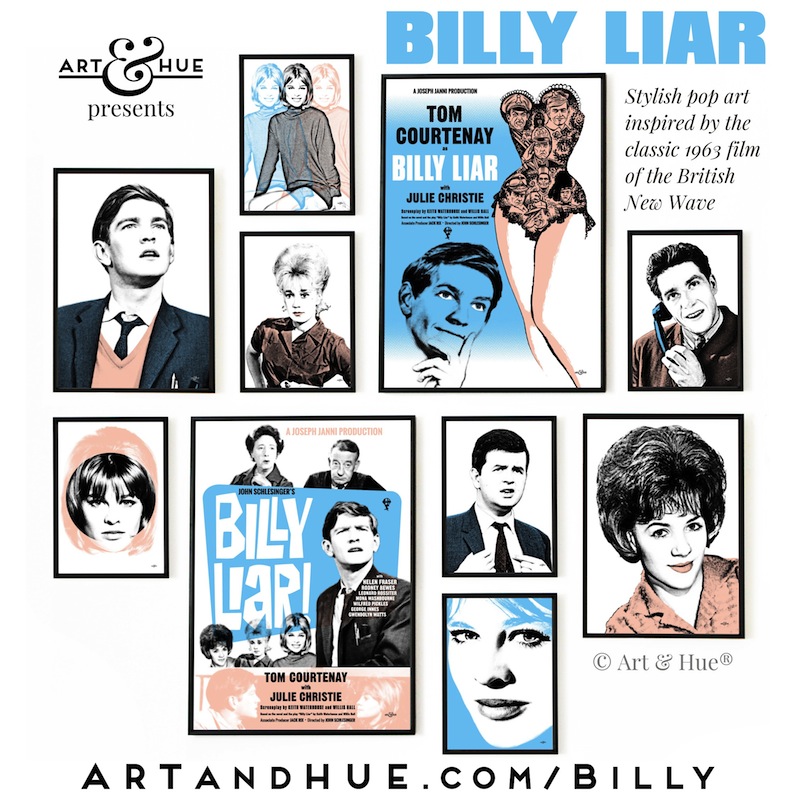 Considered one of the most significant and revolutionary films in British cinema, subverting the social realist and kitchen sink genres with its use of fantasy sequences and documentary-style location shooting, "Billy Liar" reflected the changing cultural and social landscape of Britain in the early 1960s and its influence can still be seen in contemporary cinema and television today.
Exclusively by Art & Hue, the "Billy Liar" collection is available in three sizes & many colours, printed on museum-quality archival card of 310gsm, made from 100% ethically-sourced cotton, with fine-art pigment inks for longevity.
Bring a touch of retro milk-bar chic to your home with these stylish and fun prints, perfect for any fan of pop culture or vintage cinema.
Available in A4, A3, and A2 sizes to fit standard-size picture frames. Please note that black frame is not included – for a guide on choosing a frame size take a look here.
An official collaboration with Studiocanal, this print is part of the Julie ChristieArt & Hue presents Julie Christie & Billy Liar collections of stylish pop art prints, exclusively by Art & Hue, inspired by iconic actress Julie Christie and features Art & Hue's signature halftone style (halftone is an age-old technique that uses dots to make up the printed image, similar to newspapers or comic books).
"Billy Liar" Copyright © STUDIOCANAL Films Ltd, (1963). All rights reserved.
Copyright © Art & Hue® 2017-2023. All rights reserved.