Stylish pop art of the car park at Trinity Square in Gateshead.
Trinity Square Gateshead
A sprawling complex that made its mark on the skyline of Gateshead, Trinity Square encompassed a multi-story car park as well as shops on the ground floor and a planned roof-top café with space-age curved glass windows.
The building became known as the "Get Carter" car park following its appearance in the film with Michael Caine, Ian Hendry & Britt Ekland.
Art & Hue had the pleasure to explore the car park and its roof-top space many years ago. The building was demolished in 2010.
Also available as part of a group.
Available in three sizes and many colour options, hang them in your home, office or studio to bring architectural style to your walls.
Available in A4, A3, and A2 sizes to fit standard-size picture frames. Please note black frame is not included, for a guide on choosing a frame size take a look here.
Part of the Car Parks pop art collection, this print features Art & Hue's signature halftone style (halftone is an age-old technique that uses dots to make up the printed image, similar to newspapers or comic books) along with graphic blocks of colour.
Art & Hue presents Car Parks
Experience the beauty of the often-overlooked world of parking garages with Art & Hue's stylish pop art prints inspired by the Modernist and Brutalist architecture of Car Parks.
Whether you're an admirer of 60s & 70s buildings or simply love the striking concrete shapes of Modernist and Brutalist design, the Car Parks prints are a must-have for your art collection.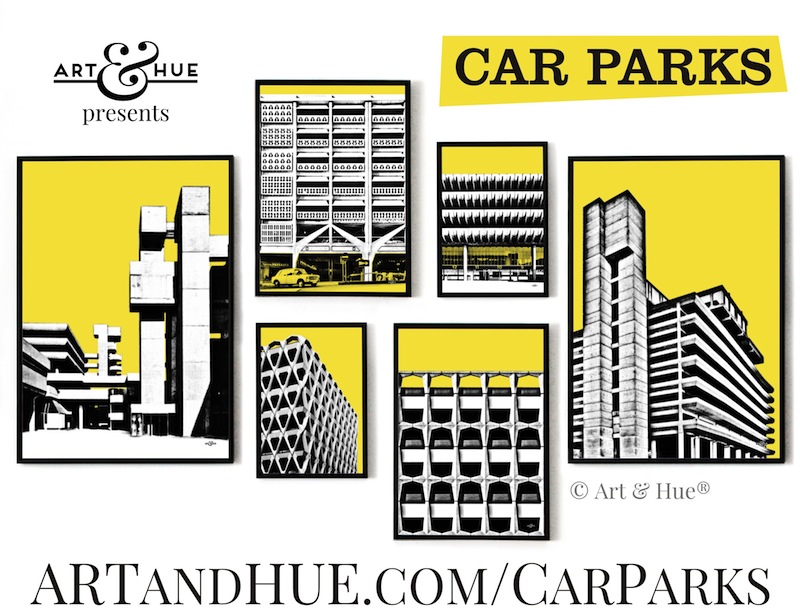 For more motoring inspired prints, discover the Midcentury Motoring collection of Sixties cars and service stations.
Copyright © Art & Hue ® 2015-2023. All rights reserved.