The Flying Scotsman stylish pop art print.
The Flying Scotsman
Originally created as a silent picture in 1929, sound was added for the 1930 release to make it a "talkie".
Starring Welsh actor Ray Milland in his first leading film role (billed as Raymond Milland), the film also stars Pauline Johnson who performed the daring stunt of walking along the outside of the train.
The Flying Scotsman train was the first passenger steam locomotive to travel at over 100 miles per hour, designed by Sir Nigel Gresley, who became the Chief Engineer of the LNER.
Screened to the trade & cinema distributors on the 7th of February 1930 at the New Gallery cinema, the film opened to the public on the 17th of May 1930 at the Alhambra cinema in London where it was the supporting film to "Under a Texas Moon".
Art & Hue had the pleasure to delve into the archives for the film "The Flying Scotsman" to create this stylish pop art print re-imagining the film poster, available in three sizes and 20 colours.
Part of the Trains pop art collection by Art & Hue.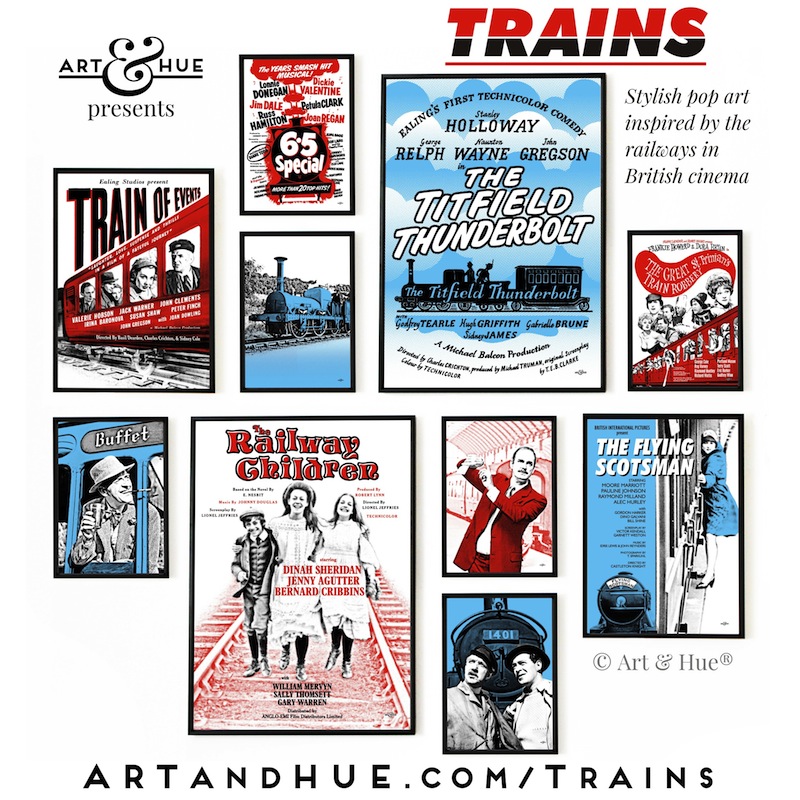 The Flying Scotsman Pop Art
Available in A4, A3, and A2 sizes to fit standard-size picture frames. Please note that black frame is not included – for a guide on choosing a frame size take a look here.
An official collaboration with Studiocanal, this print is part of the Trains collection of stylish pop art inspired by the railways in British cinema, featuring Art & Hue's signature halftone style (halftone is an age-old technique that uses dots to make up the printed image, similar to newspapers or comic books).
"The Flying Scotsman" Copyright © STUDIOCANAL Films Ltd. (1929). All rights reserved.
Copyright © Art & Hue® 2023. All rights reserved.