Los Machucos
Following the release of Le Tour collection of peloton pop art, cycling bible Rouleur Magazine asked Art & Hue to create a new design for their Landmarks series in issue 19.6.
As part of Rouleur's Landmarks series, with each issue in 2019 referencing a different race or place, the print spotlights the brutal stage of Los Machucos in Spain's Cantabrian mountains and features in the #MeToo issue released in August 2019, in which Eurosport cycling presenter Orla Chennaoui lifts the lid on abuse and unacceptable behaviour in women's cycling.
Parts of Los Machucos are so steep, the route had to be made up of concrete slabs because asphalt would have presumably fallen off the side of the mountain when poured. The print uses graphic shapes inspired by the slabs which, when overlapped, reference the grooves in between.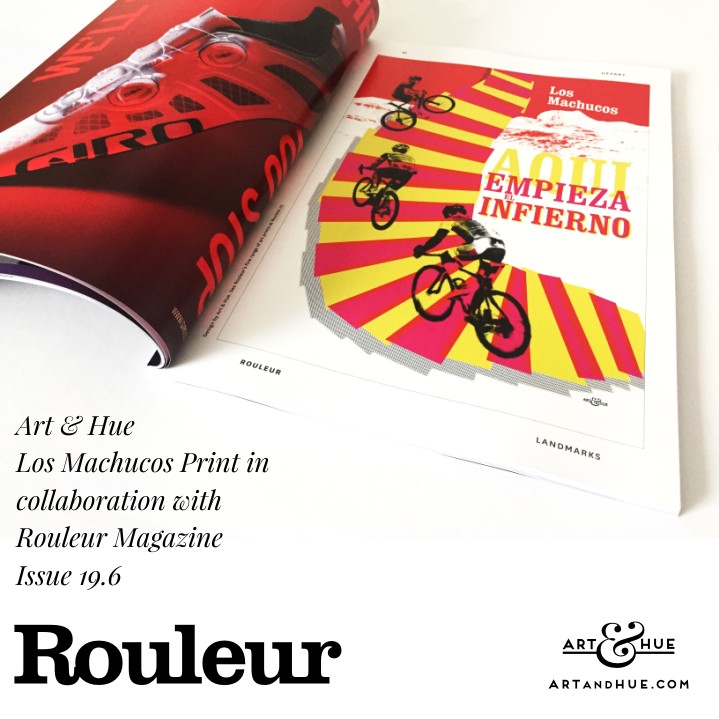 Drawn to traditional printing methods, whereby yellow and magenta inks are combined to produce red, this seems a perfect colour fit for the Spanish Vuelta. Yellow & Magenta "slabs" are overlapped to create red grooves, and the Spanish words are also overlapped in the same tones.
The appropriately relevant "Aqui Empieza el Infierno" wording, meaning "Welcome to Hell" or "Hell starts Here", is from the graffiti at the base of another brutal Vuelta climb at the Mas De La Costa stage, although Mas de la Costa is a mere 22% incline compared to Los Machucos' savage 28%.
With a drop-shadow and cyclists of Art & Hue's signature halftone dots, which is an age-old technique that uses dots to make up the printed image, similar to newspapers or comic books, the route feels as if it's floating, much like the riders must feel that they're disconnected from the world when they're 3000 feet above sea level climbing the hellishly-steep Cantabrian mountain.

Los Machucos Pop Art
A collaboration with Rouleur Magazine, Art & Hue has created a new pop art print spotlighting the gruelling climb of Los Machucos in the Spanish Vuelta, featuring Art & Hue's signature halftone style (halftone is an age-old technique that uses dots to make up the printed image, similar to newspapers or comic books).
Art & Hue's Los Machucos Pop Art print is available in three sizes and seven options, all printed on museum-quality archival card of 310gsm, made from 100% cotton, with fine-art pigment inks for longevity.
Available in A4, A3, and A2 sizes to fit standard-size picture frames. Please note that black frame is not included – for a guide on choosing a frame size take a look here.
Discover Art & Hue's Le Tour pop art collection inspired by the Tour and legendary cyclists.
Rouleur® is the Registered Trademark of Rouleur Ltd.
Copyright © Art & Hue ® 2019. All rights reserved.