From Le Tour Art collection by Art & Hue, Peloton & 1953 Winners stylish pop art prints available in three sizes and 19 colours.
Le Tour Pair
Featuring Louison Bobet, Fritz Schar, and Wout Wagtmans in the 1953 Winners print, and Benoni Beheyt in the Peloton print, these two prints from Le Tour pop art collection are available as a pair, both in 18 colours as well as in the classic Tour colours of yellow, green, and red polka dots.
For the King of the Mountains, the red polka dots were introduced in 1975 because Chocolat Poulain, the sponsor at the time, had a chocolate bar with dotted packaging; in 1953 the grass green colour for the points classification jersey was selected as the sponsor was the lawnmower manufacturer La Belle Jadinière; and the iconic yellow colour for the winner's jersey came about in 1919 because the founding sponsor of the French Tour was L'Auto newspaper, itself printed on yellow paper.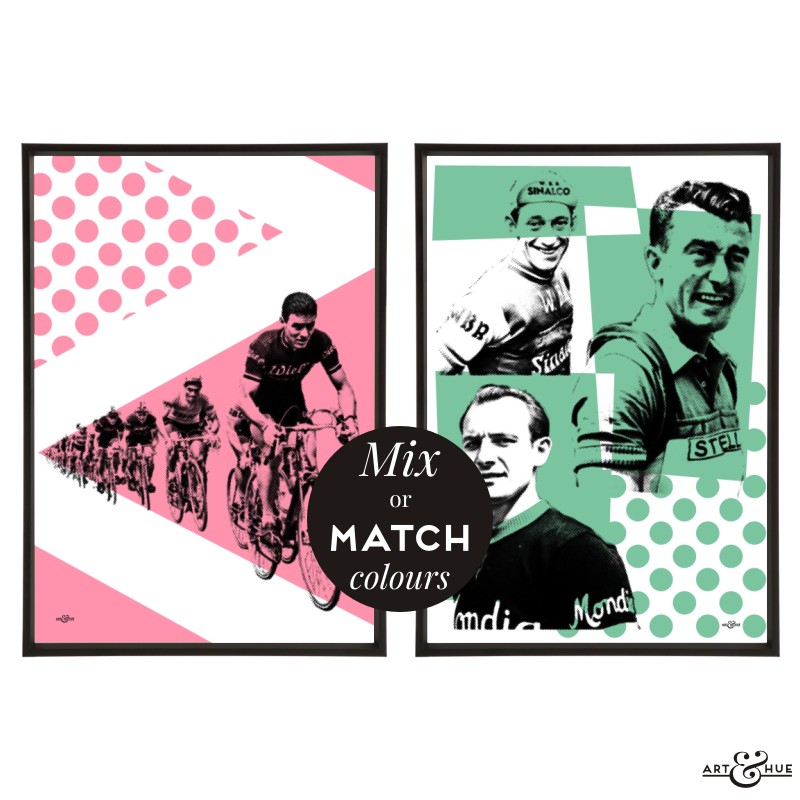 Le Tour Pair Pop Art
To mark 100 years of the yellow jersey, Art & Hue has created a new collection of stylish peloton pop art inspired by Mid-Century cycling, available in three sizes and 18 colours.
Available in A4, A3, and A2 sizes to fit standard-size picture frames. Please note that black frame is not included – for a guide on choosing a frame size take a look here.
Exclusively by Art & Hue, these prints are part of Le Tour collection of stylish pop art prints inspired by Mid-century cycling, featuring Art & Hue's signature halftone style (halftone is an age-old technique that uses dots to make up the printed image, similar to newspapers or comic books).
Copyright © Art & Hue® 2019. All rights reserved.