From Le Tour collection by Art & Hue, all eight stylish pop art prints are available as a group, in three sizes and 19 colours.
Le Tour Group
All eight prints from Le Tour pop art collection by Art & Hue, created to mark 100 years of the yellow jersey.
Legendary winners of the Tour, including Jacques Anquetil, Eddy Merckx, Louison Bobet, and Fausto Coppi, have been transformed into pop art icons to bring cycling style and colour to your walls.
Available in classic Tour hues of yellow, red, and green, the collection is available in a wide range of colours to work with your space.
With record-breaking cyclists from the 1940s, 50s, 60s, & 70s, Art & Hue has been inspired to create the pop art collection featuring the greats of Mid-century cycling.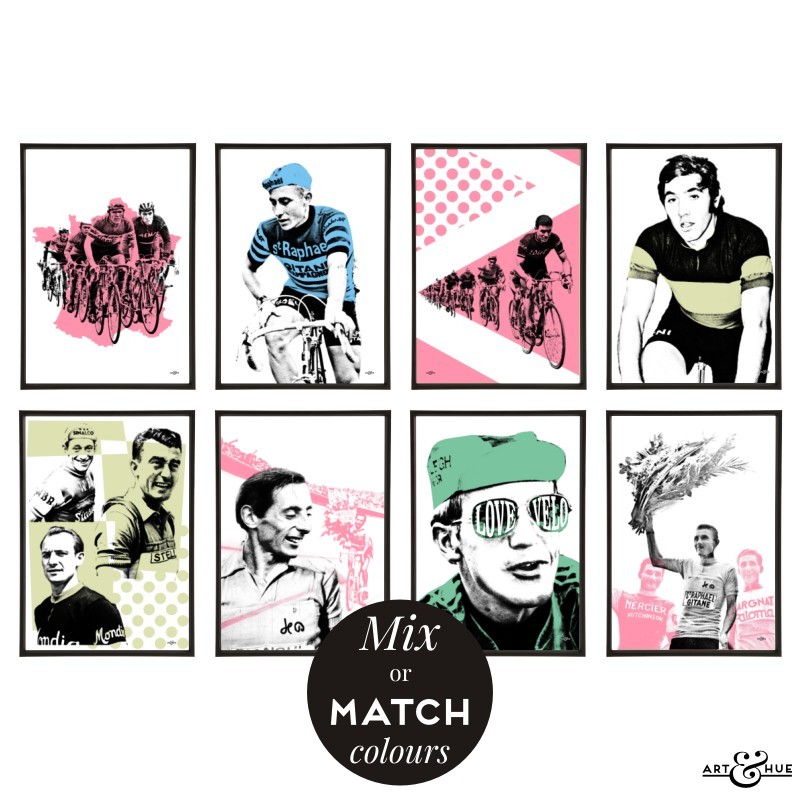 Le Tour Pair Pop Art
To mark 100 years of the yellow jersey, Art & Hue has created a new collection of stylish peloton pop art inspired by Mid-Century cycling, available in three sizes and 18 colours.
Available in A4, A3, and A2 sizes to fit standard-size picture frames. Please note that black frame is not included – for a guide on choosing a frame size take a look here.
Exclusively by Art & Hue, these prints are part of Le Tour collection of stylish pop art prints inspired by Mid-century cycling, featuring Art & Hue's signature halftone style (halftone is an age-old technique that uses dots to make up the printed image, similar to newspapers or comic books).
Copyright © Art & Hue® 2019. All rights reserved.