Guitars pop art group
Art & Hue presents stylish pop art prints featuring film actors & musicians with their stringed instruments.
Musicians-turned-actors Adam Faith, Billy Fury, Cliff Richard, Joe Brown, Terry Dene, The Shadows, and Tommy Steele join actors-turned-musicians David Hemmings and John Leyton in this collection of guitar-inspired prints.
Also included is the iconic performer George Formby with his banjo ukulele, not strictly a guitar but it is a stringed instrument with a body and a neck nevertheless so it would have been churlish not to include one of Britain's most popular entertainers.
Available in three sizes and a wide choice of colour options, the Guitars collection of stylish pop art prints is an official collaboration with Studiocanal and Renown Pictures.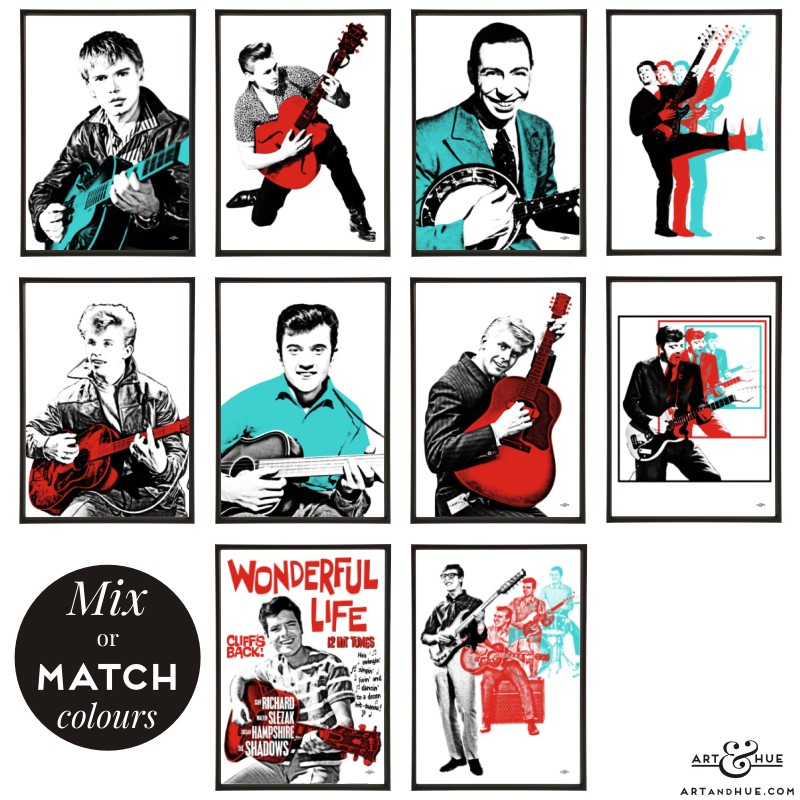 Guitars Pop Art
Exclusively by Art & Hue, the
Guitars
collection is available in three sizes and many colour options, all printed on museum-quality archival card of 310gsm, made from 100% cotton, with fine-art pigment inks for longevity.
Available in A4, A3, and A2 sizes to fit standard-size picture frames. Please note that black frames are not included – for a guide on choosing a frame size take a look here.
The Guitars collection of stylish pop art prints is inspired by film axe men and their instruments, featuring Art & Hue's signature halftone style (halftone is an age-old technique that uses dots to make up the printed image, similar to newspapers or comic books).
Also available individually.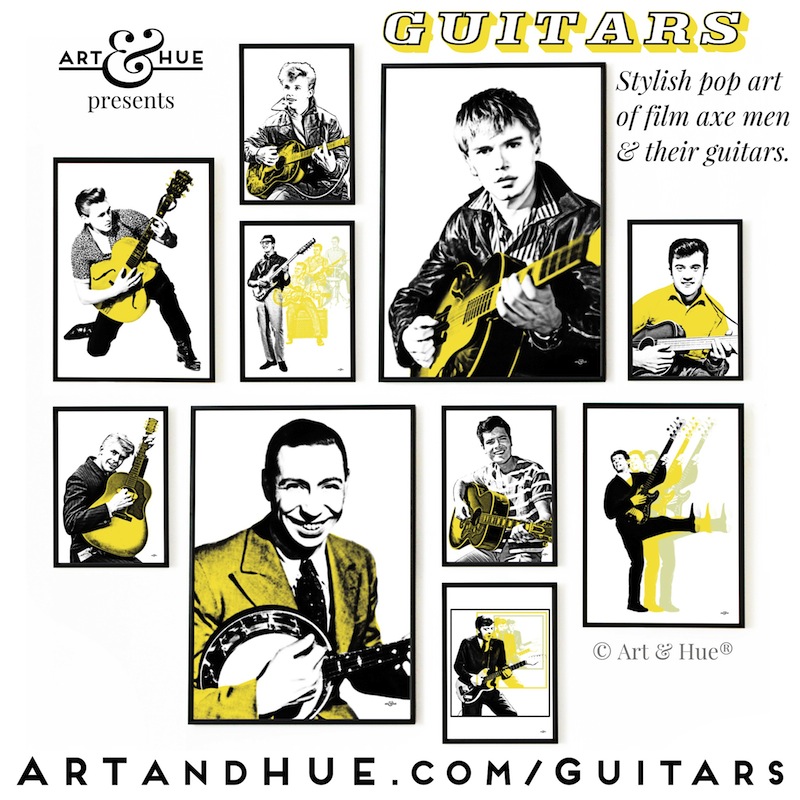 "Keep Your Seats, Please" (1936), "The Tommy Steele Story" (1957), "What a Crazy World" (1963), "Wonderful Life" (1964), Copyright © STUDIOCANAL Films Ltd, All rights reserved. "The Golden Disc" (1958), "Beat Girl" (1960), "Live It Up" (1963), "Every Day's A Holiday" (1965), Copyright © Renown Pictures Ltd, All rights reserved. Copyright © Art & Hue ® 2019. All rights reserved.