Gordon Jackson stylish pop art graphic illustration, available in 3 sizes and 26 colour options.
Jackson's film appearances are wide and varied including "Hell Drivers" with Sean Connery, Patrick McGoohan, Sid James, David McCallum, and Herbert Lom, as well as "The Ipcress File" with Michael Caine, and the Edinburgh-set musical "Let's Be Happy".
Gordon Jackson's credits are peppered with film & TV policemen so it seems only natural that he would be promoted to running his own department with the career-defining role of George Cowley in "The Professionals".
He played a policeman in "Gideon C.I.D.", "The Befrienders", "Death Goes To School", "Daylight Robbery", and "Blind Date".
Gordon Jackson had previously worked with the same production team of "The Professionals" in "The Avengers" episode "Castle De'Ath" in 1965 but was also well-known for classic British film appearances including Ealing Comedy "Whisky Galore!" and "The Prime of Miss Jean Brodie" with Maggie Smith.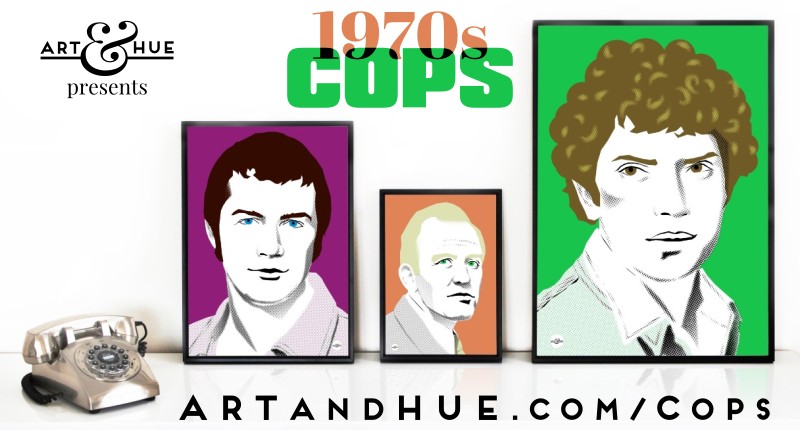 The Professionals
Hot on the heels of "The New Avengers", which starred Patrick Macnee and Joanna Lumley, the same creative and production team of Brian Clemens and Albert Fennell created "The Professionals".
"The Professionals" had a fictional CI5 department that answered only to itself, and possibly the Home Secretary, and would use any means necessary to foil criminal activity. Headed by Gordon Jackson as George Cowley, CI5, an amalgam of acronyms CID and MI5, recruited exceptional candidates including the department's main exponents Bodie & Doyle, played by Lewis Collins & Martin Shaw.
"The Professionals" has one of TV's most memorable theme tunes by Laurie Johnson who also wrote the themes for "The Avengers", "Jason King" with Peter Wyngarde, and "The New Avengers" with Joanna Lumley.
A reboot in 1997 called "CI5:The New Professionals" cast Edward Woodward as the head of the organisation, a role similar to Gordon Jackson's George Cowley.
Art Prints
Please note the orange in the Purple & Orange option is a brighter, almost neon, shade than the softer orange of the Copper colour option.
Available in A4, A3, and A2 sizes to fit standard-size picture frames. Please note that black frame is not included – for a guide on choosing a frame size take a look here.
This illustrated print is part of the 1970s Cops collection of stylish pop art prints, exclusively by Art & Hue, inspired by 1970s police detectives and features Art & Hue's signature halftone style (halftone is an age-old technique that uses dots to make up the printed image, similar to newspapers or comic books) along with graphic blocks of colour.
Copyright © Art & Hue ® 2018-2020. All rights reserved.