From Le Tour Art collection by Art & Hue, 1953 Winners stylish pop art print available in three sizes and 19 colours.
1953 Winners
Marking several new milestones in the 1953 Tour, this art print is a mid-century spin on the multicoloured combination jersey introduced in 1985 and used until 1989.
Featuring the cyclists Louison Bobet, Fritz Schär, and Wout Wagtmans, this art print brings together the three ground-breaking riders from 1953.
Louison Bobet was the first ever rider to win the French Tour in three successive years, from 1953 to 1955.
With the dashing demeanour of a Hollywood matinée idol, Bobet refused to wear his first yellow jersey as it was made from synthetic fibres which he considered to be unsuitable. Whilst the sponsor may not have been happy, as they were the manufacturers of the synthetic yarn, a pure wool version was hurriedly created overnight for Bobet to wear the next day.
Fifty years after the first Tour, the 1953 Tour introduced the green jersey for the leader in the points classification. In 1953 this was won by Fritz Schär but, as Fritz was wearing the yellow jersey after winning the first stage, the first rider to actually wear the green jersey was the points runner-up, Dutchman Wout Wagtmans.
Usually seen as the best sprinter's jersey, then called the Grand Prix Cinquentennaire, the sponsor of the points classification was a lawnmower-manufacturer who chose the grass green colour.

The super-combativity award was also introduced in 1953, and was won by Wout Wagtmans, for being the most combative cyclist of the entire Tour. Wout entered the Tour eight times, and wore the yellow jersey in 1954, 1955 and 1956, winning four stages.
Also available as part of a pair of prints: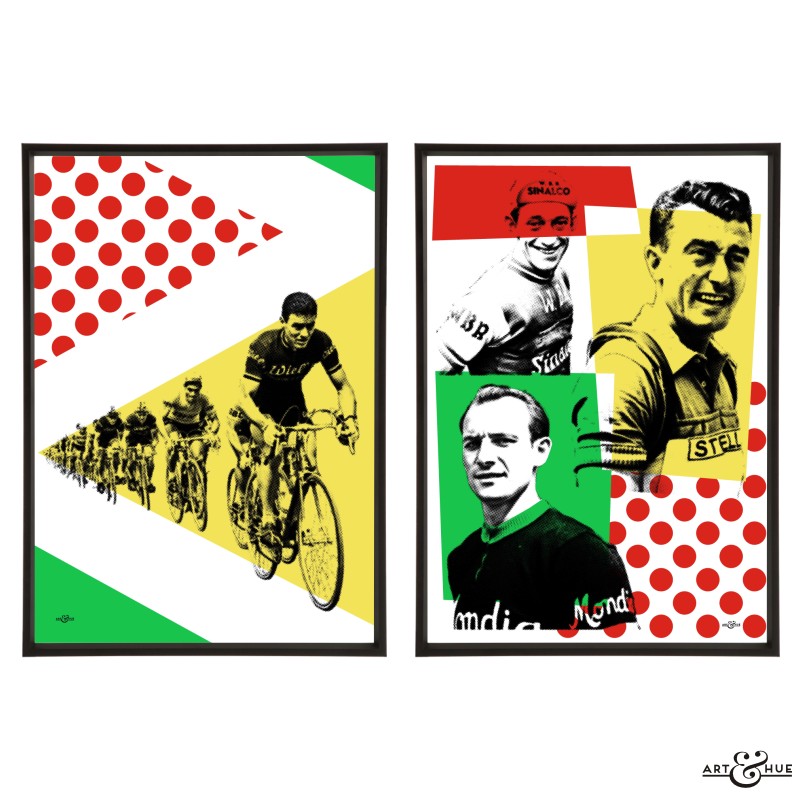 1953 Winners Pop Art
To mark 100 years of the yellow jersey, Art & Hue has created a new collection of stylish peloton pop art inspired by Mid-Century cycling, available in three sizes and 18 colours.
Available in A4, A3, and A2 sizes to fit standard-size picture frames. Please note that black frame is not included – for a guide on choosing a frame size take a look here.
Exclusively by Art & Hue, this print is part of Le Tour collection of stylish pop art prints inspired by Mid-century cycling, featuring Art & Hue's signature halftone style (halftone is an age-old technique that uses dots to make up the printed image, similar to newspapers or comic books).
Copyright © Art & Hue® 2019. All rights reserved.