Stylish pop art of the National Theatre, the concrete Brutalist arts venue on London's
South Bank
. This print highlights the futuristic & sculptural Brutalist architecture of the cubist theatre.
Designed by Sir Denys Lasdun, construction on the National Theatre started in 1969 and was officially opened by Her Majesty The Queen in 1976. In the same year, productions transferred across from The Old Vic, the previous temporary home of the National Theatre which was established by Sir Laurence Oliver.
Starting with the Royal Festival Hall in 1951 and then with the opening of Queen Elizabeth Hall in 1967, the futuristic Brutalism of the National Theatre cemented the Southbank complex of arts & music venues as the cultural heart of London.
Brutalist architecture can be divisive (Prince Charles described the new theatre complex as a "nuclear power station"), yet the communal emphasis placed on the building's design, working outwards from the theatre spaces, has been praised for the experience of community felt by audiences and public visitors.
The impressive structure is a firm fixture of the cultural, architectural, and urban landscape and still wears its bold modernity proudly opposite the mock classicism of the Georgian buildings on the other side of the River Thames.
Available in A4, A3, and A2 sizes to fit standard-size picture frames. Please note black frame is not included, for a guide on choosing a frame size take a look here.
Part of the South Bank pop art collection, this print features Art & Hue's signature halftone style (halftone is an age-old technique that uses dots to make up the printed image, similar to newspapers or comic books) along with graphic blocks of colour.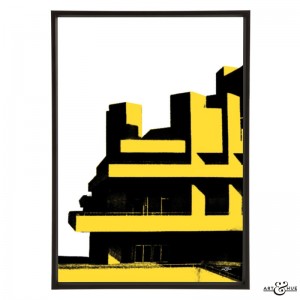 In collaboration with the Southbank Centre, this print will also be available soon in Southbank Yellow exclusively from Southbank Centre Shops. Visit the shops in person or order soon online.
Copyright © Art & Hue ® 2017. All rights reserved.