Stylish pop art group of six prints of the South Bank by Art & Hue.
From the Royal Festival Hall, constructed for the Festival of Britain in 1951, to the brutalist concrete architecture of the 1960s, the South Bank complex of arts & music venues is the cultural heart of London.
Not only does the South Bank provide the capital with must-see performances & exhibitions but also with a distinctive modernist skyline & sociable riverside hangout.
The concrete brutalist buildings were designed in the 1960s, with Queen Elizabeth Hall opening in 1967 and the Hayward Gallery in 1968.
Designed by British architect Denys Lasdun, construction started on the cubist National Theatre in 1969 and was opened in 1976.
Closed in 2015 for a two-year programme of sympathetic restoration, Hayward Gallery and the neighbouring Queen Elizabeth Hall will be reopening in 2018. The restored complex will include a new Hayward Gallery shop from which this print will be exclusively available in Southbank Yellow.
Available in A4, A3, and A2 sizes to fit standard-size frames. Please note black frames are not included, for a guide on choosing a frame size take a look here.
This South Bank pop art collection features Art & Hue's signature halftone style (halftone is an age-old technique that uses dots to make up the printed image, similar to newspapers or comic books) along with graphic blocks of colour.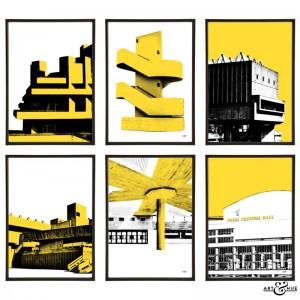 In collaboration with the Southbank Centre, these prints will also be available soon in Southbank Yellow exclusively from Southbank Centre Shops. Visit the shops in person or order soon online.
Copyright © Art & Hue ® 2017. All rights reserved.