Stylish pop art of Brutalist Stairs, the iconic concrete stairways dotted around the riverside arts & music complex on London's
South Bank
.
The stairs are synonymous with the Southbank and a prime example of Brutalist architecture. The minimal and functional aesthetic of the concrete buildings has become an iconic feature of London's landscape.
Designed by lead architect Norman Engleback and assisted by John Attenborough, Alan Waterhouse, Dennis Crompton, Ron Herron, and Warren Chalk, the futuristic Brutalism cemented the Southbank complex of arts & music venues as the cultural heart of London.
Closed in 2015 for a two-year programme of sympathetic restoration, Hayward Gallery and the neighbouring Queen Elizabeth Hall will be reopening in 2018. The restored complex will include a new Hayward Gallery shop from which this print will be exclusively available in Southbank Yellow.
Available in A4, A3, and A2 sizes to fit standard-size picture frames. Please note black frame is not included, for a guide on choosing a frame size take a look here.
Part of the South Bank pop art collection, this print features Art & Hue's signature halftone style (halftone is an age-old technique that uses dots to make up the printed image, similar to newspapers or comic books) along with graphic blocks of colour.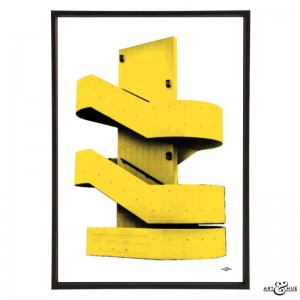 In collaboration with the Southbank Centre, this print will also be available soon in Southbank Yellow exclusively from Southbank Centre Shops. Visit the shops in person or order soon online.
Copyright © Art & Hue ® 2017. All rights reserved.