And the Oscar goes to…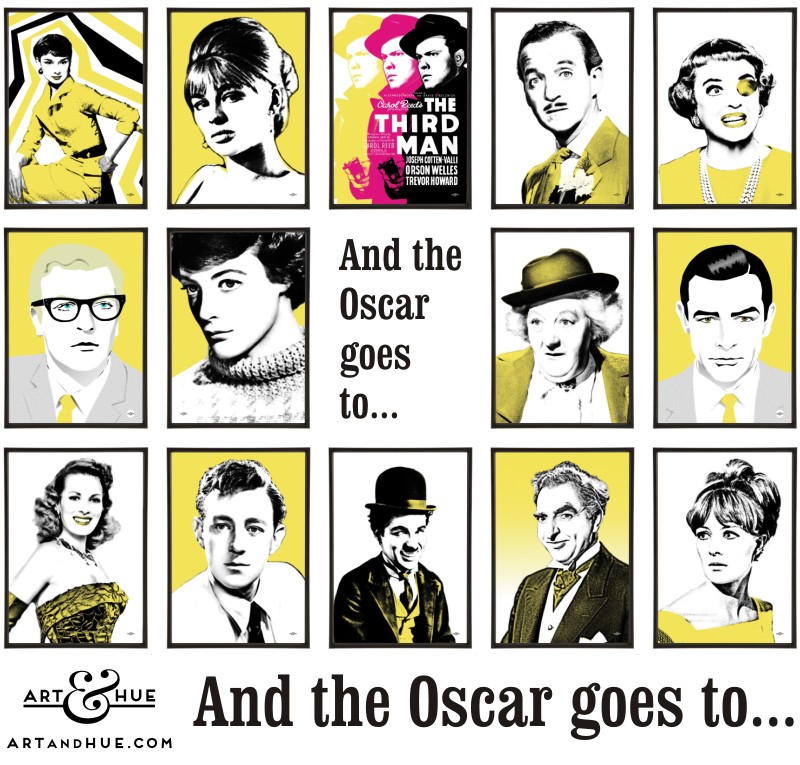 At the risk of sounding like Hedda Hopper or Louella Parsons, tonight is the film industry's biggest night. The Academy Awards will soon be getting underway to announce who will take home the ultimate golden trophy of Oscar.
There is much British talent nominated again this year and, whilst the awards do seem to lean to American performers, Brits have done well at the ceremony over the years.
Here's a selection of stylish pop art prints by Art & Hue featuring performers and films that have won Oscars.
Classic British film noir "The Third Man" won the Oscar for Best Cinematography by Robert Krasker, and secured a nomination for the director Carol Reed as well as Best Sound Editing for Oswald Hafenrichter.
Bette Davis was nominated an incredible 10 times for Best Actress and won twice for "Dangerous" and "Jesebel".
Julie Christie won Best Actress for her performance in the film "Darling", which also won Best Picture, in 1965. Julie was also nominated for later performances in "McCabe & Mrs. Miller" and "Away From Her.
Audrey Hepburn won the Oscar for Best Actress in her first main film role. Following a supporting role in "Secret People", William Wyler cast her as Princess Ann in "Roman Holiday", which also won the Academy Awards for Best Writing and Best Costume Design.
Michael Caine has won two Oscars for Best Supporting Actor for his performances in "Hannah and Her Sisters" and "The Cider House Rules".
Sean Connery won Best Supporting Actor for "The Untouchables" and "Goldfinger" won the Academy Award for Best Sound Effects Editing, the first James Bond film to win an Oscar.
Not nominated for an acting Oscar throughout his prolific career, Richard Attenborough won an Academy Award for directing "Gandhi".
Maggie Smith has won two Oscars, Best Actress for her powerhouse performance in "The Prime of Miss Jean Brodie", and Best Supporting Actress in "California Suite" in which she plays a nominated actress attending the Academy Awards with her husband played by Michael Caine.